TO BEGIN AND SHARE
Butterfly salted Cantabrian anchovies 000 -1u- • 5
Cured Jabugo ham D.O. Guijuelo • 14/20
Potato salad with tuna belly confit & coral mayonnaise • 9
Creamy cured Jabugo ham croquette -1u- • 2,4
Galician style octopus with smoked pimentón • 19
Smoked aubergine Baba ganoush, sherry pearls & cruditée • 8,5
Ajoblanco Patatas Bravas • 7
Toasted coca bread with tomato & extra virgin olive oil • 2,75
(We have GF bread)
---
STARTERS
Tuna & avocado tartare, Ajoblanco style • 17
Local red prawn salad, divino tomato, almond & caramelised macademia vinaigrette • 14
Chilled Ajoblanco almond soup, roast Iberian pork belly, langoustine grillé • 13
Fresh artisan burrata, heritage tomatoes, piquillo peppers, basil & walnuts • 13
Poached farmhouse egg, parmentier, cured Jabugo ham & summer truffle • 14,5
Fried calamari with a citrus mayonnaise • 14
Mini garden vegetable & prawn wok, Thai style, with coconut milk & citronella • 14
---
PAELLA & PASTAS
Wild mushroom & summer truffle paella • 17
Seafood & sheallfish paella -min. 2pax- • 21
Rigatoni, truffle, parmesan & caramelised almonds • 16
---
FROM THE SEA
Balfegó Bluefin tuna tataki, creamy avocado and roast tomato • 21
Grilled squid with black garlic musseline • 17
Chargrilled monkfish, seasonal vegetables, Jerusalem artichoke & tomato vinaigrette • 22
Salt cod confit, piquillo pil-pil & piparra peppers • 22
Grilled octopus, parmentier & smoked pimentón 22
---
MEAT D.O.
Chargrilled fillet of beef, parmentier, roast spring onion and Port sauce •24
Chargrilled best Iberian "pluma" pork, smoked aubergine & pineapple chutney • 18
Fillet steak tartar • 19
Chargrilled acorn-fed duck breast, passion fruit & vineyard peaches • 18
Handmade Galician blonde Burger, brioche, raclette cheese, red onion & Jack Daniel's sauce  • 16
Slow roasted beef ribs in red wine from Priorat • 19
Chargrilled Galician blonde prime rib sharing steak -by weight- • 5,9/100gr
---
DESSERTS
Kate´s Eton Mess -red berries, whipped cream & merengue- • 6
Passion fruit mousse, white chocolate & coconut foam • 6
Cheesecake with pistachio biscuit & mandarin sauce • 6,5
Caramelised brioche torrija with cinnamon milk ice-cream • 6
Chocolate fondant with vanilla ice-cream -10 min- • 6,5
Vegan black chocolate ice-cream • 4,5
Pistachio ice-cream • 4,5
Lime sorbet • 4,5
The lunch menu is available weekdays from Monday to Friday, from 1pm to 4pm.
The menu may undergo modifications throughout the week.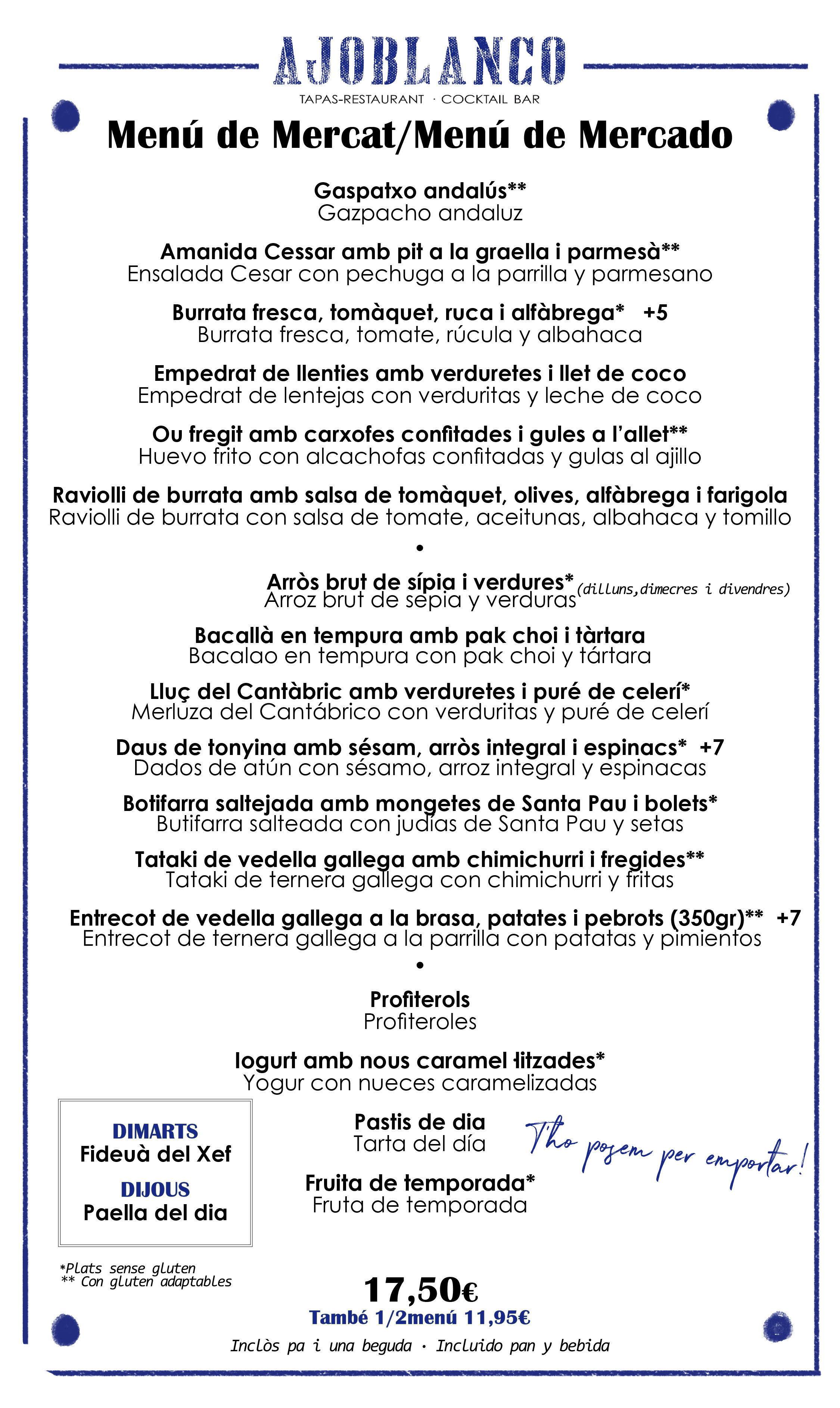 Do you work near Ajobanco?
Do you live in the area and don't feel like cooking?
We send you our Executive Menu every week to your email!
CAVA
RECARDERO TERRERS Brut Nature Gran Reserva · Xarel·lo · Macabeo · Parellada
TORELLÓ Brut Nature · Xarel·lo · Macabeo · Parellada
PARXET, CUVÉE 21 Brut ecológico Macabeo Parellada · Pansa blanca
TORELLÓ PÀL·LID Brut Rosé Reserva Pinot noir
AT ROCA 24 Brut Nature Reserva Malvasía
---
CHAMPAGNE
MÖET & CHANDON IMPERIAL Chardonnay · Pinot meunier · Pinot noir
VUEVE CLICQUOT, VINTAGE Chardonnay · Pinot meunier · Pinot noir
G.H. MUMM, BRUT CORDON ROUGE Pinot noir · Chardonnay · Pinot meunier
---
WHITE WINE
D.O. Penedès
ELS VINYERONS LLUERNA Natural, Xarel·lo
HONEYMOON Ecológico, Parellada
D.O. Montsant
ACUSTIC BLANC Garnacha blanca · Garnacha gris · Macabeo
D.O. Terra Alta
ILERCAVÒNIA Garnacha blanca
D.O. Alella
TINA 9 Pansa blanca
D.O. Rueda
SHAYA Verdejo
AFORTUNADO Verdejo
D.O. Rias Baixas
PACO Y LOLA Albariño
D.O.Valdeorras
MONTENOVO  Godello
D.O.Costers del Segre
TURÓ DE LA PLETA  Chardonnay
D.O. La Rioja
LA CANDELERA Garnacha blanca· viura ·malvasía. Fermentado en barrica
D.O. Extremadura
HABLA DE TI Sauvignon blanc
---
ROSÉ
D.O. Penedès
PARATÓ Ecológico, Pinot noir
JANÉ VENTURA VINYES ROSES Sumoll · Garnacha negre
D.O. Castilla Y León
NICTE PÉTALOS DE ROSA Prieto picudo
D.O. Alella
PANSA ROSADA Pansa rosada
---
RED WINE
D.O. Penedès
ELS VINYERONS LLUERNA  Natural, Ull de llebre
D.O. Costers del Segre
ODA CASTELL DE REMEI Cabernet sauvignon · Merlot · Tempranillo
TURÓ DE VALLCORBA Cabernet sauvignon
D.O. Terra Alta
SELECCIÓ Garnacha peluda
ALMODÍ Garnacha borruda
D.O. Montsant
ACÚSTIC  Garnacha · Cariñena
FURBUS  Ecológico, garnacha negre
D.O. Empordà
MARTI FABRA, VINYES VELLES Garnacha tinta · Samsó · Tempranillo · Syrah Cabernet sauvignon
D.O. Priorat
CAMINS DEL PRIORAT Cariñena · Garnacha Tinta · Cabernet Sauvignon
PLAER Garnacha · Caribeña
RITME Cariñena · Garnacha
LES TERRASES Garnacha · Samsó
D.O. Rioja
EL NÓMADA Reserva, Tempranillo · Graciano
GÓMEZ CRUZADO  Seleccionado, Tempranillo · Garnacha
EL BUSCADOR Tempranillo · Garnacha
CUEVA DE LOBOS Crianza, Tempranillo
REMELLURI Reserva, Tempranillo · Garnacha · Graciano
D.O.Ribera del Duero
CARMELO RODERO CRIANZA Crianza, Tinta del país · Cabernet sauvignon
FRANCISCO BARONA Monastrell · Bobal · Abillo
FIGUERO 12 CRIANZA Tinta del país
ENTRELOBOS Tinta del país
PSI DE PETER SISSECK 93 PUNTOS PARKER, Tinta del país · Garnacha
D.O. Extremadura
HABLA DEL SILENCIO Cabernet sauvignon · Syrah · Tempranillo
D.O.Bierzo
SAINT JACQUES ULTREIA  Mencia
D.O.Ribeira Sacra
FINCA EL CURVADO Mencia
AJOBLANCO COCKTAILS
UN NEGRONI
Star of Bombay, Noilly Prat y Martini Riserva Speciale Bitter.
Lo infusionamos todo con anís estrellado y piel de lima
EIFFEL ROYALE
Cava acompañado de notas de licor de frutos rojos, naranja y cognac
ITALIAN PASSION
Limoncello, Martini Riserva Speciale Bitter, fruta de la pasión y lima
TURBO CHELADA
Michelada clásica con salsas y especias para darle intensidad y sabor. Con Coronita y una dosis de Tequila Patrón
MOJITO BARCELONES
El mojito especial de nuestra casa, con Bombay Sapphire, cava, zumo de naranja, menta y azúcar
AMBRA D'ORO
Star of Bombay Gin combinado con Martini Riserva Ambrato. Jengibre y clavo de olor adornan la joya
MEXICAN MULE
Mezcal Los Danzantes Joven, Tequilla Patron Silver y zumo de lima. Fresco, cítrico y un punto picante
MAR NOSTRA
Fresco y mediterráneo, con Gin Mare, fresas, un toque de Fino, albahaca y pepino
PIÑA COLADISSIMA
Nuestra versión nunca pasa de moda, con Ron Bacardi Superior, licor de melocotón, vainilla, coco y zumo de piña
APRICOT JACK
Jack Daniel´s, Apricot Brandy, jarabe de jengibre, zumo de limón y clara de huevo
MARGARITA APASSIONADA
Una margarita de otro nivel con Patron Silver, Triple Sec, zumo de lima, fruta de la pasión y licor de agave
BRAZILIAN SKIES
Cachaça Leblon, coco, café, cacao con notas cítricas y frutos rojos. Ahumado con madera de roble
DRY MARTINI CLÁSICO
Gin Oxley London Dry o Vodka Grey Goose Removido o agitado. Aceitunas, piel de cítricos o ambos…
HERITAGE DAIQUIRÍ
Daiquirí de toda la vida: Ron Bacardi Heritage, zumo de lima y azúcar
APEROL SPRITZ
Aperol, cava, soda y naranja
SQUEEZED MARY
Nuestra versión del clásico con Vodka Grey Goose, zumo de tomate y Fino Lustau
PINK PALOMA
Vodka Absolut, Aperol, zumo de lima, piña y frutos rojos
KRAKEN AWAKENS
Un punch largo, fresco y especiado con Ron Kraken, licor de almendras y jarabe de vainilla
BEE´S SOUR
Clásico sour elaborado con Vodka Grey Goose, jarabe de miel de naranjo y clara de huevo
KOOL & THE GANG
Maker´s Mark Bourbon, Cherry Brandy, vainilla, zumo de limón y Ginger Ale
---
GIN & TONIC'S
BOMBAY SAPPHIRE
twist de lima
STAR OF BOMBAY
twist de naranja
MARTIN MILLER´S
twist de limón
MONKEY 47
twist de limón
GIN RAW
laurel seco y twist de limón
HENDRICK'S
pepino y agua de rosas
BROCKMAN'S
twist de pomelo, mora y arándano negro
OXLEY
twist de limón
G'VINE FLORAISON
uva morada y twist de lima
GIN MARE
romero, albahaca y twist de limón
BULLDOG
bitter de regalíz y twist de limón
CITADELLE
canela y twist de limón
OLD RAJ
infusión de azafrán y piel de limón
---
VIRGIN COCKTAILS (V)
ALMOND COLADA (V)
Es una Piña Colada con mango y jarabe de almendras…sabe genial
DON AMARGO (V)
Zumo de pomelo rosa, jarabe de vainilla y albahaca fresca. Terminamos con Tónica Schweppes Premium de Pimienta Rosa
LIMONADA ULTRAMARINOS (V)
Zumo de limón, sirope de jengibre, azúcar y menta
RASPBERRY MOJITO ROYAL (V)
Zumo de lima, frambuesas, menta, soda y Ginger Ale
GIN-TONIC AJOBLANCO
Bombay London Dry Gin infusionada con fresas, pepino y bayas de enebro y unas gotas de bitter de naranja.
Servido con fresas, piel de limón y tónica Schweppes Premium.
VODKA-TONIC AJOBLANCO
Cogiendo como base Vodka Grey Goose cada mes os presentamos un Vodka-Tonic con previa infusión de ingredientes: frutas, especias, tés… Pregunta a nuestro equipo por el Vodka Tonic del mes.
CUBA-LIBRE JOVEN
Bacardí Heritage y Coca-Cola, con unas gotas de zumo de lima y angostura. Si te gusta el ron, pruébalo y repetirás. Si no te gusta, igual descubres que ahora sí.
CUBA-LIBRE AÑEJO
BACARDÍ 8 y Coke, con aceite esencial de naranja y unas gotas de bitter de chocolate.