TO BEGIN AND SHARE
The best 000 Santoña salted anchovies • 10
Potato salad with tuna belly confit & coral mayonnaise • 9
Cured Jabugo ham D.O. Guijuelo • 12,9/19,9
Creamy cured Jabugo ham croquettes -4u- • 8,8
Creamy gorgonzola and walnut croquettes -4u- • 8,8
Galician style octopus with smoked pimentón • 16
Andalucian style fried calamari  with a citrus mayonnaise • 12,5
Fried aubergine, goat cheese & honey • 7,5
Ajoblanco Patatas Bravas • 6,5
Toasted coca bread with tomato & extra virgin olive oil • 2,5
(We have GF bread)
---
STARTERS
Tuna & avocado tartare Ajoblanco style • 16
Roasted aubergine, hoisin, creamy yogurt & pomegranate • 12,5
Grilled squid from Barceloneta with black garlic muslin • 13,5
Fresh artisan burrata, tomatoes, rocket & truffle • 12
Our Caesar salad, with chargrilled chicken • 11
Garden vegetable & prawn wok, Thai style, with coconut milk & citronella • 12,5
Fried farmhouse eggs, jabugo ham & frittes • 12
---
PAELLA & PASTAS
Mixed seafood paella – squid, cuttefish, clams, king prawns & mussels- -min. 2 pax- • 19,5
Rigatoni, truffle & parmesan • 14
Smoked burrata ravioli with tomato, olives and thyme • 13
---
FROM THE SEA
Red tuna tataki, avocado & wasabi crème, Vietnamese rice & wakame seaweed • 18
Cod fillet confit with garlic and honey musseline, spinach, shitakes & pepper sauce • 18
Grilled octopus, parmentier & smoked pimentón • 19,5
Chargrilled wild fish of the day (ask your waiter) • S.M.
---
MEAT D.O.
Chargrilled fillet of beef, parmentier, roast spring onion and Port sauce • 24
Beef tataki with horseradish sauce • 17
Chargrilled best Iberian "pluma" pork, smoked aubergine & pineapple chutney • 17,5
Handmade Galician blonde Burger, raclette cheese, caramelised red onion & Jack Daniel's sauce • 15
Fillet steak tartar • 18
Slow roasted beef ribs in red wine from Priorat • 18
Chargrilled Galician blonde prime rib sharing steak -by weight- • 5,5/100gr
---
DESSERTS
Kate´s Eton Mess -red berries, whipped cream & merengue- • 6
Passion fruit mousse, white chocolate & coconut foam • 6
Cheesecake with pistachio biscuit & mandarin sauce • 6,5
Caramelised brioche torrija with cinnamon milk ice-cream • 6
Chocolate fondant with vanilla ice-cream -10 min- • 6,5
Vegan black chocolate ice-cream • 4,5
Pistachio ice-cream • 4,5
Lime sorbet • 4,5
The lunch menu is available weekdays from Monday to Friday, from 1pm to 4pm.
The menu may undergo modifications throughout the week.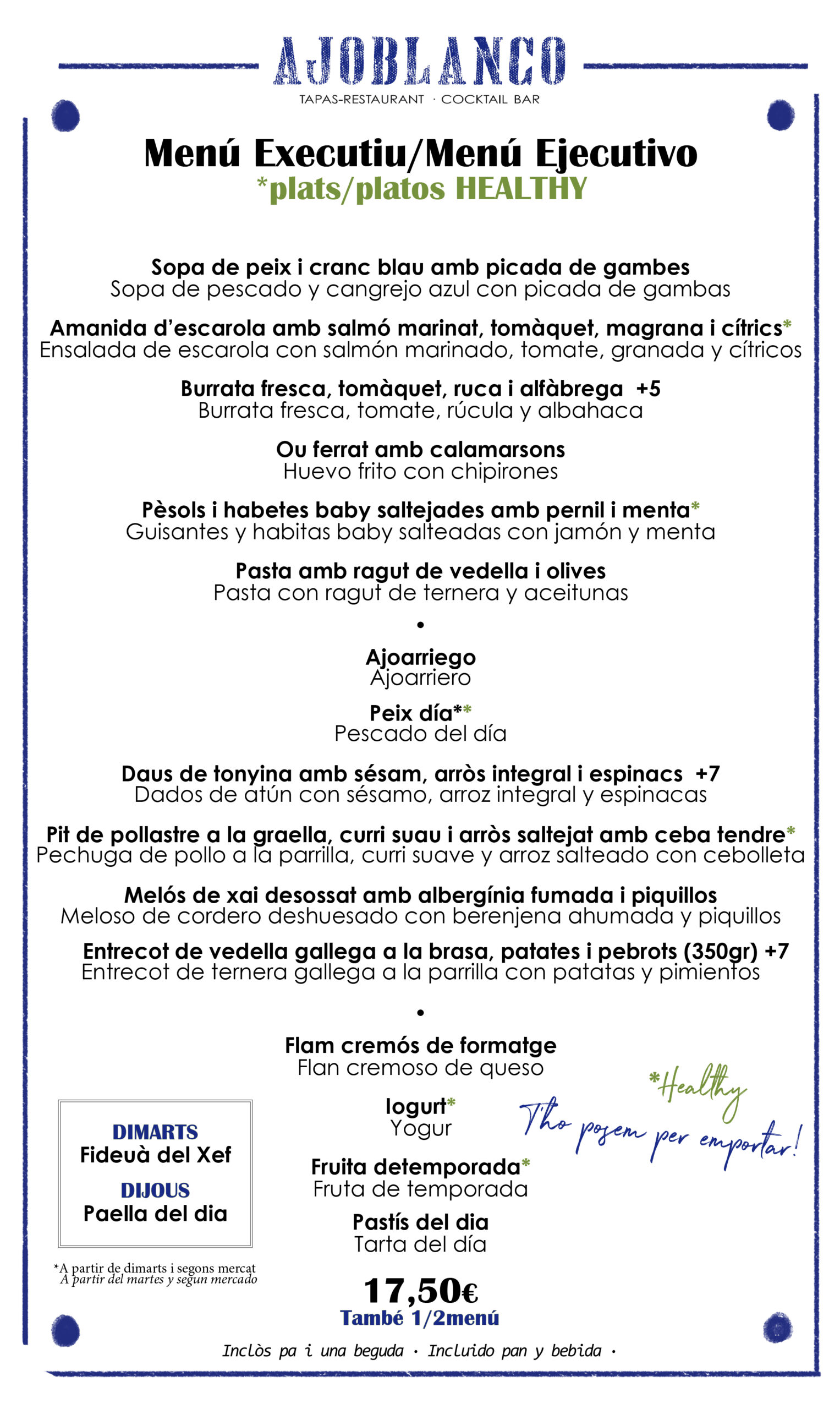 Do you work near Ajobanco?
Do you live in the area and don't feel like cooking?
We send you our Executive Menu every week to your email!
CAVA
RECAREDO TERRERS, BIODINÁMICO Brut Nature Gran Reserva · Xarel·lo · Macabeo · Parellada
TORELLÓ Brut Nature · Xarel·lo · Macabeo · Parellada
CLOS LENTISCUS Blanc de Blancs Ecológico · Brut Nature · Malvasía
GRAMONA III LUSTROS Gran Reserva · Xarel·lo · Macabeo
TORELLÓ PÀL·LID Brut Rosé Reserva · Pinot noir
PARXET, CUVÉE 21 Brut Ecológico · Macabeo · Parellada · Pansa blanca
---
CHAMPAGNE
MÖET & CHANDON IMPERIAL Chardonnay · Pinot meunier · Pinot noir
BILLECART-SALMON, BRUT ROSÉ Chardonnay · Pinot meunier · Pinot noir
VUEVE CLICQUOT, VINTAGE Chardonnay · Pinot meunier · Pinot noir
G.H. MUMM, BRUT CORDON ROUGE Pinot noir · Chardonnay · Pinot meunier
---
WHITE WINES
D.O. Penedès
COSMIC Ecológico · Xarel·lo · Sauvignon blanc
CLOS LENTISCUS Ecológico pasado por ánfora · Xarel·lo
HONEYMOON Ecológico · Parellada
D.O. Montsant
ACUSTIC BLANC Garnacha blanca · Garnacha gris · Macabeo
D.O. Terra Alta
ILERCAVÒNIA Garnacha blanca
D.O. Alella
TINA 9 Pansa blanca
D.O. Alicante
ENRIQUE MENDOZA Fermentado y criado en barrica · Chardonnay
D.O. Rueda
SHAYA Verdejo
ERESMA Verdejo
D.O. Rias Baixas
SEÑOR DA FOLLA VERDE Albariño · Loureira · Treixadura
PACO Y LOLA Albariño
D.O.Valdeorras
NENO DE VIÑA SOMOZA Godello
VALDESIL Godello
---
ROSÉ WINES
D.O. Penedès
PETJADES Merlot
D.O. Castilla Y León
NICTE PÉTALOS DE ROSA Prieto picudo
D.O. Alella
PANSA ROSADA Pansa rosada
D.O.Côtes de Provence
ZUTANITA Cinsault · Garnacha
---
RED WINES
D.O. Penedès
MAS CANDI CABÒRIES Ecológico · Sumoll · Mandó · Xarel·lo
D.O. Costers del Segre
ODA CASTELL DE REMEI Cabernet sauvignon · Merlot · Tempranillo
BRU DE VERDÚ Cabernet sauvignon · Ull de llebre · Merlot
D.O. Terra Alta
SELECCIÓ Garnacha peluda
ALMODÍ Garnacha borruda
D.O. Montsant
ACÚSTIC NEGRE Garnacha · Cariñena
D.O. Priorat
CAMINS DEL PRIORAT Cariñena · Garnacha Tinta · Cabernet Sauvignon
RITME Cariñena · Garnacha
D.O. Rioja
EL NÓMADA Tempranillo · Graciano
ARTADI VIÑAS DE GAIN Tempranillo · Graciano
EL BUSCADOR Tempranillo · Garnacha
GÓMEZ CRUZADO CRIANZA Tempranillo · Garnacha
BASAGOITI, CRIANZA Tempranillo · Garnacha
D.O.Ribera del Duero
CARMELO RODERO CRIANZA Tinta del país · Cabernet sauvignon
FRANCISCO BARONA Tinta del país
FIGUERO 12 CRIANZA Tinta del país
ENTRELOBOS Tinta del país
PAGO DE CARRAVEJAS, CRIANZA Tinta del país
D.O. Mallorca
SINCRONÍA ECOLÓGICO Callet · Montenegre · Syrah
D.O. Alicante
ENRIQUE MENDOZA Crianza · Pinor noir
D.O. Jumilla
JUAN GIL 12 MESES Monastrell
D.O. Extremadura
HABLA DEL SILENCIO Cabernet sauvignon · Syrah · Tempranillo
D.O.Bierzo
VERÓNICA ORTEGA QUITE Ecológico · Mencia
D.O.Ribeira Sacra
FINCA EL CURVADO Mencia
AJOBLANCO COCKTAILS
UN NEGRONI
Star of Bombay, Noilly Prat y Martini Riserva Speciale Bitter.
Lo infusionamos todo con anís estrellado y piel de lima
EIFFEL ROYALE
Cava acompañado de notas de licor de frutos rojos, naranja y cognac
ITALIAN PASSION
Limoncello, Martini Riserva Speciale Bitter, fruta de la pasión y lima
TURBO CHELADA
Michelada clásica con salsas y especias para darle intensidad y sabor. Con Coronita y una dosis de Tequila Patrón
MOJITO BARCELONES
El mojito especial de nuestra casa, con Bombay Sapphire, cava, zumo de naranja, menta y azúcar
AMBRA D'ORO
Star of Bombay Gin combinado con Martini Riserva Ambrato. Jengibre y clavo de olor adornan la joya
MEXICAN MULE
Mezcal Los Danzantes Joven, Tequilla Patron Silver y zumo de lima. Fresco, cítrico y un punto picante
MAR NOSTRA
Fresco y mediterráneo, con Gin Mare, fresas, un toque de Fino, albahaca y pepino
PIÑA COLADISSIMA
Nuestra versión nunca pasa de moda, con Ron Bacardi Superior, licor de melocotón, vainilla, coco y zumo de piña
APRICOT JACK
Jack Daniel´s, Apricot Brandy, jarabe de jengibre, zumo de limón y clara de huevo
MARGARITA APASSIONADA
Una margarita de otro nivel con Patron Silver, Triple Sec, zumo de lima, fruta de la pasión y licor de agave
BRAZILIAN SKIES
Cachaça Leblon, coco, café, cacao con notas cítricas y frutos rojos. Ahumado con madera de roble
DRY MARTINI CLÁSICO
Gin Oxley London Dry o Vodka Grey Goose Removido o agitado. Aceitunas, piel de cítricos o ambos…
HERITAGE DAIQUIRÍ
Daiquirí de toda la vida: Ron Bacardi Heritage, zumo de lima y azúcar
APEROL SPRITZ
Aperol, cava, soda y naranja
SQUEEZED MARY
Nuestra versión del clásico con Vodka Grey Goose, zumo de tomate y Fino Lustau
PINK PALOMA
Vodka Absolut, Aperol, zumo de lima, piña y frutos rojos
KRAKEN AWAKENS
Un punch largo, fresco y especiado con Ron Kraken, licor de almendras y jarabe de vainilla
BEE´S SOUR
Clásico sour elaborado con Vodka Grey Goose, jarabe de miel de naranjo y clara de huevo
KOOL & THE GANG
Maker´s Mark Bourbon, Cherry Brandy, vainilla, zumo de limón y Ginger Ale
---
GIN & TONIC'S
BOMBAY SAPPHIRE
twist de lima
STAR OF BOMBAY
twist de naranja
MARTIN MILLER´S
twist de limón
MONKEY 47
twist de limón
GIN RAW
laurel seco y twist de limón
HENDRICK'S
pepino y agua de rosas
BROCKMAN'S
twist de pomelo, mora y arándano negro
OXLEY
twist de limón
G'VINE FLORAISON
uva morada y twist de lima
GIN MARE
romero, albahaca y twist de limón
BULLDOG
bitter de regalíz y twist de limón
CITADELLE
canela y twist de limón
OLD RAJ
infusión de azafrán y piel de limón
---
VIRGIN COCKTAILS (V)
ALMOND COLADA (V)
Es una Piña Colada con mango y jarabe de almendras…sabe genial
DON AMARGO (V)
Zumo de pomelo rosa, jarabe de vainilla y albahaca fresca. Terminamos con Tónica Schweppes Premium de Pimienta Rosa
LIMONADA ULTRAMARINOS (V)
Zumo de limón, sirope de jengibre, azúcar y menta
RASPBERRY MOJITO ROYAL (V)
Zumo de lima, frambuesas, menta, soda y Ginger Ale
GIN-TONIC AJOBLANCO
Bombay London Dry Gin infusionada con fresas, pepino y bayas de enebro y unas gotas de bitter de naranja.
Servido con fresas, piel de limón y tónica Schweppes Premium.
VODKA-TONIC AJOBLANCO
Cogiendo como base Vodka Grey Goose cada mes os presentamos un Vodka-Tonic con previa infusión de ingredientes: frutas, especias, tés… Pregunta a nuestro equipo por el Vodka Tonic del mes.
CUBA-LIBRE JOVEN
Bacardí Heritage y Coca-Cola, con unas gotas de zumo de lima y angostura. Si te gusta el ron, pruébalo y repetirás. Si no te gusta, igual descubres que ahora sí.
CUBA-LIBRE AÑEJO
BACARDÍ 8 y Coke, con aceite esencial de naranja y unas gotas de bitter de chocolate.
In the Christmas season, we will open every day except for the 1st at noon. For those days we have designed this very complete and festive menu. We advise you to make your reservation as soon as possible.